In the initial days babies communicate with actions, crying and all sorts of noises to grab the attention of elders. When taken out they scream seeing bright colors, moving objects and are happy going out for a walk. The baby senses that he is not in the usual environment and is out of home.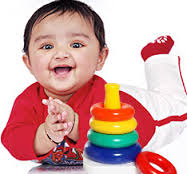 I've noticed this shift of memory when I used to carry my little one back home after a long day in the baby care center. He would smile and laugh aloud seeing his toys and cycle. I've seen the quick change in recognizing his father, grandparents only with the voice overheard in the next room. Truly this development in memory is blessed and magical.
Babies have short term and long term memories as they keep growing. Parents play a major role in the memory development of a baby. Baby can be encouraged to memorize through fun loving games and by repeating the process.
Listed below are few interesting ways to develop memory for your baby.
Familiarity and Response
When baby is few weeks old, he will start responding to familiar sounds. The music played before the news on TV will make him turn his head, this indicates that he recognizes sound and people too. If babies are not turning to objects or people and not responding it indicates they have no memory of seeing that earlier. If babies recognize tones and objects, memory has been initiated for the baby. You may have observed your baby staring at certain objects for longer time. The object is new and they are trying to collect details of color, movement etc. If the object is shown and baby does not show attention, certainly he is familiar with it. Baby responds to new stimuli .Now I remember why he craved for new toys always or the toy in the other kids hand.
Delayed Response and Simulation
Deferred imitation or delayed response and simulation is another form of babies memory. When a baby is shown how to play with a toy and the baby does the same act when the baby gets the toy after a gap, it indicates that the memory is good for the baby. As baby grows and is an year old, he replicates most of the activities. Slower response is noticed in few kids. No wonder the saying about parents being role models in the growth and development of a child.

Prenatal Response
Medical science has proved that babies in the womb respond to new sounds and indicate development of short term memory. In the familiar environment there will be no response from the kid. Babies get habituated to the combination of noise and vibration and they only respond to difference in the external situation. The neurons involved in memory of a baby forms at the start of third trimester, making researchers believe that this is the period of actual memory formation in a baby.
Valuable tips on how to develop your baby's brain
Newborn Baby Response
New born baby can recognize few things they have heard while in the womb. This is an indication that baby has a level of short term memory. Main reason why our elders in the family insists that pregnant women must listen to devotional and pleasant songs, read and listen to stories that have value is to imbibe those qualities and learning's in the kids. A new born baby responds to only a few voices initially –the mother or granny as their voices are heard frequently from the womb.
Growing Baby Response
When the baby is 6 to 12 months old and is becoming difficult to manage with his naughty pranks, pulling articles, walking all around. You will observe that he is familiar with the flow and remembers the things we had shifted out of his reach the last time. He will be keenly watching that particular area.
Similar examples are the child is happy when he is taken for an evening walk and cries when he is taken to a doctor's clinic. He relates that place with injections, painful incidents and therefore even if you bribe him with words or articles, he will be fussy. These are few memories each of you can link to in your lives.
By the time baby is one year old, he starts communicating verbally. He will then stop all action and put forward his thoughts and emotions without fear.
Long term Memory Response
Baby is growing and so is the memory recall pattern. Until the baby is 3 years old he has short term memories. The brain structure that holds the memory permanently in the mind is formed only after baby is 3 years old.
Parents involvement in Memory Development
Parents play a major role in the memory development of the baby. Usually elders play games like koo-koo similar to hide n seek. The child will remove the cloth covering the face. You can even hide an object under the mat and you will observe that he is brings out the toy from beneath the mat. You can develop their memory with certain personal items like papa's dairy or chair, grandpas eye glasses, sibling school bag. This will help him connect with people and the environment, since the ability to communicate is linked with how well he remembers things.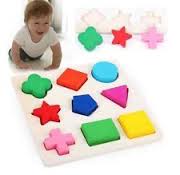 You will notice that he is able to assemble his toys with different shapes and colors. These are signs that your baby is growing and his memory is developing with age. You can improve your baby's memory with sign language too. He will associate and memorize for eg: barking of dog, crow caw, sounds of pet animals, grand ma's cough.
Go ahead and conduct your experiments. Have fun with your baby. Observe, learn and do your best to mold a bright kid.
Setting a routine in the early stages is very important and it reflects in the baby's growth. The baby will slowly maintain the routine and this will help you manage your time, balance your home and work. The caretaker in your absence can plan taking care of the kid.
Preparing baby feeds, bathing arrangements can be scheduled and this will ensure baby has a good pattern for feed, bath and sleep too. You can also plan for office work (if you have work from home arrangement).
Babies will follow the schedule gradually and the biggest advantage is baby follows the routine and gets adjusted to the timings except on days when baby is unwell. Bonding between parents and the child will develop due to this routine.
Planning a few routines for the baby are: Feed routine, Sleep routine, Bath routine, Toilet schedules.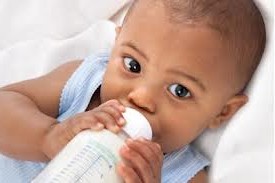 Feed routine: A popular saying, "Only a crying baby is fed". Nevertheless the baby trusts that you will feed him when he is hungry. The simple way he communicates is by crying. He will show his irritation and restlessness by crying and wailing. Mother senses this reflux and starts feeding the baby. The cycle of feeds are understood with regular observation. As baby grows the food patterns vary- introduction of semi-solid foods. You need to cook in advance and make things ready for baby.
It is advisable to feed babies every three hours, but do not be fussy with the timing. Doctors also insists to feed the babies when they are hungry and genuinely have appetite. Force feeding can result in over feeding or vomiting. When you start a feed routine, a feeling of love and security is created in the baby, which lasts a lifetime.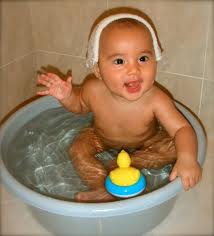 Bath routine: Bath time is loved by most babies. Basically bath time is fun time for little ones. They have a nice oil massage and a warm water bath. They are changed into fresh and clean clothes. Babies are fed after a bath and put to sleep. Infact most babies are drowsy during feed time itself due to the refreshing feeling of warmth. Keep all the bath accessories together such that you do not have to leave the baby unattended.
Few babies do not enjoy bathing. They get restless with the massage and warm water. They would like to be left alone in the crib or watch the toys around. Such babies need to be handled with great care. Hold baby close to yourself while performing the bath routine. Bathing need not be done in the early hours of the day. Plan baby bath based on the sleep routine, usually in the afternoon when the sun is warm. Set a particular time and stick to the schedule.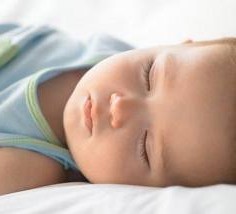 Sleep routine: Sleep routine is the most important routine for the baby in a day. The sleep pattern of a newborn baby is very inconsistent, this will disturb the sleep of everyone in the family. Developing a sleep routine is very important as the baby is slowly adjusting to the new environment he is in. Sleep pattern generally observed is if the baby is born in the night, he'll be awake during that time and will sleep in the day. If baby is born in the day time, he'll be awake during the day and sleep during the night.
If babies do not sleep during the set schedules they become irritated. They are overtired and handling the baby becomes tough. Therefore it is recommended that babies are allowed to follow the sleep pattern. Watch for the signs of tiredness, when baby starts rubbing her eyes and becoming cranky. You will observe that the baby goes fast asleep after these signs. You can start the bedtime routine, start putting the baby into the cradle and rocking or placing baby in the crib and patting gently. Lower the lights, close the curtains and make the environment amicable.
You can also hum a few slow melodious lines, sing lullabies and put the baby to sleep. Babies that follow a routine develop the same as they grow up. The child turns to be systematic and this is a good practice imbibed.
Toilet routine can be slowly developed. This can be initiated when baby is around 9 months old. Baby is already on a solid diet and therefore morning stools can be initiated on the toilet chair by holding to the baby. After regular intervals baby can be taken to the toilet for passing urine. This will develop an instinct and the baby understands and communicates with signs the need for nature call.