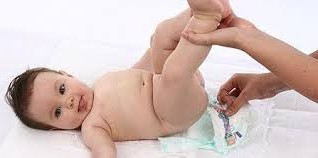 Diaper rashes for babies are painful ,the babies are irritated and restless. Diaper rashes can be prevented with timely action and proper care. Here are few essential tips to prevent diaper rashes for the baby.
Choose the diapers wisely:
Quality of product should be given preference to than fragrance and cost. Avoid diapers that promise fragrances as they are bound to be treated with chemicals that may irritate your baby. Do not use wipes that are dipped in alcohol or other pleasant fragrances. Rinse your baby's bottom with a wet cloth dipped in warm water. If you are using cotton nappies that are made at home , do wash them thoroughly to remove the detergents.
How to Make a Cloth Diaper for the Baby?
Ensure your baby's bottoms clean and dry:
Change baby's diapers frequently. Monitor the diaper for stools or urine. Avoid long contact with the poop and urine. During nights also watch out if the diaper needs changing. Clean your baby's private parts with a wet cloth dipped in warm water, pat dry and replace the diaper. Take care not rubbing the privates vigorously. Also as part of good hygiene practices sanitize your own hands before and after every diaper change.
Weaning process- Be cool:

During weaning process introduce one food at a time. Watch the baby for any visible changes i.e allergies or rashes. If you observe redness then discontinue with that food. Continue to breast feed as it will build immunity for the baby and reduce rashes if any.
Your Baby's First Taste of Solids
Check the size of the diapers:
Always buy a pack of diapers that fits your baby. This will ensure better air circulation and baby will be comfortable. In case you are using the home made ones make sure you do not tie it tight over the baby's waist. In summers or during humid weather let the baby be without the diaper for some time when asleep. This will make the baby feel free and give some fresh air. Cover with a light cloth. Do monitor to avoid insect bite etc.
The importance of Setting a Baby's routine
Select best baby products:
When the baby is patted dry after a nappy change do apply baby powder. In case you observe rashes do consult the pediatrician. Follow medication as recommended by the doctor. You may apply moisturizers on the baby's skin. Check for the "best use before" dates on the pack while purchasing diapers. Cover the diaper pack after you have take out diapers to avoid dust contamination and itching for the baby.

Take precautions for the baby and avoid diaper rashes. Keep your baby healthy and active.
Please add a comment and, if you like the post, feel free to share it with your friends. You can also visit our Facebook page and Google plus page for more insight on other articles.
You may also like to read:
How to keep your Baby Healthy during Weather changes?
How Memory Develops for your Baby
Vaccines for your baby – Immunization schedule
It is not safe to use an AC or Air cooler for a newborn baby?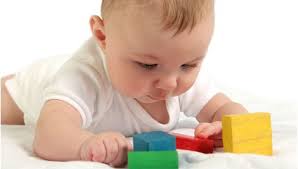 Toys are the child's best means for being engaged. Toys keeps away boredom and therefore it is important to have a variety of toys such that the child has enough attention and is engrossed while playing with them.
Toys are colorful, makes pleasant noises, in different shapes and sizes, in different textures – Soft material and hard ones too. Whatever be the size and shape you need to monitor for the safety of the kid. Keep away tiny or loose pieces from the babies too avoid choking risks.
Read the instructions while purchasing the toys. There should not be any sharp projections, too much noise generating toys. Choosing toys is important to maximize your child play and encourage physical and intellectual growth.
Toys enhance movement and motor skills
Toys help co-ordination and balance, build arm and leg strength. There are push and pull toys, ride on toys eg: a small car which moves on wheels. Advised to avoid battery powered ride-on toys. Playing with balls, kicking the ball with hands and legs are also great fun, the child gets good exercise. There are rockers like the horse which helps move forward and backward. The child learns of new toys and also imbibes the technique of operating each of them.
As they grow you can choose toys that involve hand-eye coordination. The child will gradually adapt to the toy placement of various structures with practice. You can select toys that makes patterns, coloring on art books and using crayons. Stacking and building toys with arrangement of shapes and placing the shapes in corresponding blocks.

The child can play with toys associated to the kitchen, doctor articles, teaching kit, showing their interest towards a particular task or profession. Children at a very young age play musical instruments from the inclination to music and musical instruments.
Toys enhance language skills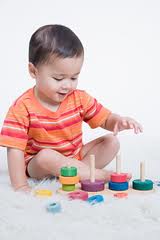 For improving language skills it is advised to select books with pictures. The child can be made to understand with images and will be able to correspond to the requirement quickly. As the children are curious you can make an effort to read stories to them and share good values and idealogy.
Mothers who are carrying can follow this for the unborn child too. Listening to good music and talk only fosters good qualities in an individual. As child grows up, he will not be interested on the same toys. You need to select toys as per the age. Children will be keen on sports kit and want outdoor stuff. You can let the child have fun in open air provided close monitoring.
The toddlers learn to balance and place articles. At times the babies will cry and weep when they are unable to place the shapes successfully. They get attracted to colors and shapes. Babies do learn to align and bridge toys over one another. When there are more than one baby around they will want to play with the same toy or choose the same color even when there are spare ones around. A sense of ownership starts building in them. Parents can teach kids to share and nurture qualities that will become the foundation of one's character.
Toys are a great medium for the child's growth and development. The trick lies in selecting the right toys that truly supports the child's physical and intellectual growth.
Also read: How to make your home safe for kids