Almond Oil is Ideal for Baby Massage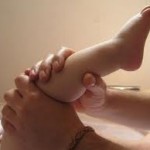 Baby massage is very important for the growth and development of a baby's body. There are a lot of oils available in the market. The recommended ones are coconut oil and almond oil. Almond oil is known as badam tel.
Coconut oil can be used on babies all round the year. Commonly used in southern states of India. Almond oil provides moisturizing effect. In winter due to external cold the new born baby's skin become dry. Selection of oil is very critical as the baby's skin is very sensitive and if the oil is of poor quality baby may get rashes.
Massage plays a very important role, it makes baby's bones and muscles strong and develops healthy body. You can start massaging on baby when the new born is 10 to 15 days old. Oil massage stimulates respiration, circulation, digestion and elimination. After an oil massage and warm water bath babies will have a sound sleep. They will remain active, relaxed and cheerful. Massage is also thought to help relieve gas,  colic and constipation problems; it also helps heal the infant during illness by easing congestion and pain.
Massaging encourages the bond between mother and child. The gentle strokes of the mothers hands gives warmth to the baby and the mother and baby bond strengthens. Ensure baby does not put his hands and feet into the mouth during massaging as there are chances the oil can get inside. Do not pour oil into the ears and nose while massaging. Initially baby will show dislike to massaging. But as the days go by the baby will take it as part of his exercise routine .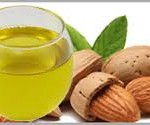 Almond oil is used on baby's skin and head too. Almond oil helps hair growth and strengthens the hair roots. The skin becomes nourished and glows. Almond oil has a light, sweet scent and contains vitamins A, B1, B2, B6 and E, as well as monounsaturated and polyunsaturated fats. Almond massage oil is an excellent choice for use on babies because it is naturally rich in emollients and pure enough for sensitive baby skin.
Massaging almond oil on baby's scalp will moisten the dandruff flakes and you will be able to wash it off within a weeks time. Almond oil makes the skin soft, supple and baby's skin will glow with radiance.
It is recommended to take your pediatricians advice in case you want to shift to a new oil. Use oil in its pure form to avoid contamination and addition of minerals in the oil.
Do not mix different varieties of oil to massage the baby. Wash the oil completely during the bath to avoid any remnants on the baby making it uncomfortable and sticky. Read the instructions mentioned on the label pack. Also consult the elders in the family for guidance.

The prominent oils used in different parts of India are Olive oil, Sesame oil, Ghee in addition to coconut oil and almond oil. Almond is the king of nuts and therefore the price of oil is higher than the other oils used for babies. A little more care to the baby's skin and hair will have long lasting results.  Baby skin care has to begun from the early days itself , never know your baby may grow up to be a famous personality.
No related posts.