Best 8 Weaning Foods for your Baby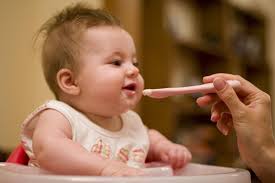 It is generally observed that mothers are eager and enthusiastic to start giving their babies foods other than breast milk. When the time approaches to make the change, she keeps guessing as to "what food will be ideal for my baby"?.
Listed below are the best 8 weaning foods for your baby. These foods will be easy for your baby's little tummy and is the best weaning option.
Important Weaning Foods for your Baby
Juices:
Preferably start with fresh and clear fruit juices, ensure filtering. Select fruits that is available all through the year. Apple is the best choice. Peel an apple, cut it into small pieces and  boil it in a pan. When cooked mash the apple with a flat spoon or your hand and use a strainer for filtering. Collect the juice in a container. Feed spoonfuls of the clear apple juice to your baby in the beginning.
Also read: Tender Coconut water is better than Baby's Formula Milk
Remembering the popular saying,"An Apple a day keeps the doctor away"
Dal pani:
You can soak mung dhal/ split Green gram in water for 3 hrs. Drain the water, wash and cook in double the quantity of water. When the dal has cooked and turns soft, drain the cooked dhal thru' a strainer and when lukewarm offer few spoonfuls at a time.
You can start with these liquids till the baby is six months old. Offer the below foods when the baby is over six months.

Fruits:
If your baby enjoys having fruit juice shift to apple puree. Peel the apple, cut into small pieces and cook in a shallow pan. Mash it with a flat ladle when hot. When it cools serve your hungry baby. You can try the same recipe with a pear also.
An over ripe banana can be mashed and fed without any lumps. Feed your baby and he is definitely gonna enjoy. You can serve orange juice too after filtering.
Gradually alternate with papaya, mango and chickoo (sapota). Always remember to introduce one fruit at a time to avoid indigestion.
Related reading: Feeding Ripe Mango will Protect your Baby from Summer heat
Vegetables: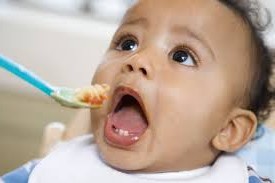 Vegetables like carrot, potato, tomatoes are a good start. Make sure the veggies are washed properly, peeled and then cooked. Carrots and potatoes can be hand mashed and fed with a little salt, Tomato should be peeled and filtered. Spinach can be started after about 2 weeks. Wash the leaves in running water. Chop the leaves, cook along with other vegetables. Mix with ghee, salt and serve. Bottle gourd, Pumpkin, Yellow cucumber can be slowly included in the menu.
Also read: Recipes for Baby food
Soups:
Boil the vegetables in a pressure cooker. Mash them and strain the contents to remove larger pieces and avoid choking. Add a pinch of salt. Introduce clear vegetable soups when the baby is 8 months old. Include carrots, beetroots, tomatoes, beans gradually.
Also read: Wheat flour porridge
Cooked foods:
You can start a wholesome meal with cooked rice and split green gram / moong dhal. Take equal amounts of rice and mung dhal. Heat the mung dhal and keep aside. Wash rice and dhal and cook in pressure cooker with a little turmeric and salt. Season with jeera in desi ghee. You can add vegetables and spinach leaves pressure cook along with rice and dhal and serve the baby.
Related reading: Your Baby's First Taste of Solids
The above mentioned weaning foods will ensure your baby is getting the required nutrition and baby is healthy in all seasons.
Also read: What to feed when my child has watery motions – Diarrhea
Take care of your little one. Best wishes!!
No related posts.