Constipation in baby- Home remedies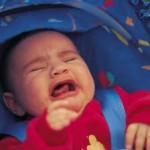 Motherhood is a great joy and to have a smooth transition you need to know few essentials of baby care. One common problem observed with new moms is constipation in babies. You cannot see your little one writhing with pain and you certainly need help. I've collated a few points to make it an easy experience for you.

Symptoms:
You can understand the baby has constipation when baby cries and keeps the legs upwards. Baby's face turns red crying in pain.
The stomach becomes larger due to no passage of stools and will vomit if fed in addition.
The baby will be gasing too. At times the baby will pass hard stools , and will be restless due to no relief.

Why does constipation happen
For the first few days the baby will pass meconium, which is a dark green or black substance. Only by the third day, regular bowel movements will begin. If your baby's stools don't get regular, or if he or she is still passing meconium, this could be a sign that your baby may not be getting enough to eat. You need to increase supplement for feeding the baby.
Insufficient water intake when you switch over to new supplements vs breast milk
Change in formula or weaning. Diets low in fiber
 Home remedies suggested
If your baby is on external milk feeds then increase water consumption for the baby. Give water that is pre-boiled and brought to room temperature after cooling. Increase baby's water consumption to increase fluid in bowels.
When you plan to change the baby's food, consult the doctor .
If baby is struggling with pain you can feed prune juice. Best recommended is prune juice. Prunes should be soaked overnight and the water can be given in a bottle. The baby will by natural reflex start sucking the liquid.
You can add ¼ tspn of castor oil in breast milk or supplement and feed the baby , it will act as a laxative.
If baby has not passed stool give a warm bath. In a wide tub, take warm water such that baby can be placed into it. Massage the tummy gently downwards and the crying baby become silent due to the effect of warm water and massage.
Try cycling method that is gently shift the baby's feet towards the stomach and back down just like pedalling a cycle in sleeping position. The posture will enable the baby pass stool after few attempts.
You can apply Vaseline to the baby at that area to ensure smoothness and skin does not cut when hard stools are passed.
You get medicines like Milk of Magnesia that is taken orally. Give ¼ tspn of Milk of Magnesia with 2 spoons of milk. You need to wait for some time and alas … baby has cleared his tummy. Remember to keep lot of cleaning material close by and a room freshener to clear the air.
Glycerin suppositories are sold over the counter in medical shops. Affix one suppository when the baby indicates signs for the need to pass stools. Laxatives and Suppositories are not recommended in the long run as the natural bowel movement is not going to work. Baby will find this convenient. Basically a problem of mind set when the baby grows.
If the problem is to do medically then the doctor will prescribe medicines for short term relief.

 General tips:
Take the crying baby into the arms and carry him around. Keep rocking the baby in your arms. This will be soothing for the baby. If the baby is breastfed, the mother can continue to feed the baby for more times.
Consult the pediatrician and update the concerns and your observations . Keep a count of the diapers consumption per day and the frequency of stools passed. This data will help the doctor assess the situation and diagnose accordingly.
No related posts.