How To Avoid Older Children Feel Jealous
Older children may feel jealous when a new child arrives in the family until they are 4 to 5 years of age. This happens as the child was receiving all attention of his parents , friends, grandparents and all of a sudden the focus has shifted onto the new babe. There will be lot many visiting home and bringing gifts, new clothes for the baby  and the older child feels left out. This is known as sibling rivalry.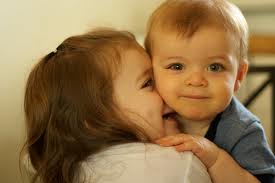 If the older child is three years and below, he will try to grab the attention of parents by doing similar activities like the younger one. He will become fussy and will become more dependent for all activities which he had been doing himself with minimum guidance. Further irritation will be expressed by wetting the bed, soiling the clothes, being adamant and crying etc. This will keep the mother diverted towards him. These are few examples of the older child's behavior .
If the child is between three to five years he'll resort to thumb sucking, avoiding potty, spilling things, refusing to eat etc. He may retaliate by trying to hurt the baby, make big noise with the toys , and so on.
The parents on the other hand should recognize the child's pranks and be patient and gradually make him accept his little sibling. Never scold or beat the kid, situation will deteriorate as the older kid will become even more difficult to manage the kid. He may get back at the child by pinching, making loud noises etc. Handle the older child with affection and apply the below mentioned tips tactfully.
A few tips on how to prevent the older child feeling jealous.
Prepare your older kid about the baby's arrival. Hint him about your tummy growing and there is a baby coming to give him company. You can also make him feel the baby's movements.
Involve the older child during purchase of articles for the baby's room. Appreciate him for the activities he is doing independently. Make him believe that he is big and can sleep on his own in another bed / room. Slowly shift him to another room prior to the baby's arrival.
In case he is of age to be put up in a nursery , admit him such that he is in the company of other kids too. Help him pick his own clothes.  Keep your child informed with whom he'll have to stay when you are in hospital.
When you are in hospital, call your older child on a regular basis. If hospital permits children to visit, make him visit you. Talk to him such that he does not miss you. Enquire about his food friends and school.
Ensure your baby get a special outing and refreshments to celebrate baby's arrival. Inform him that the baby is a present for the older child and he needs to take good care.
When the baby comes home ensure he is not left out. Ensure all visitors and family members address him also along with the kid. Make him realize that this is his little babe and he is the Big Brother. Involve him for baby decisions.
Make sure you spend quality time when he is back from school. Talk to him about his day and the events that occurred. Guide him with the home work.
If you ask him to speak slowly , he'll do just th the opposite, therefore handle him tactfully by mentioning that good children will obey and be good. He'll immediately lower his voice and not be troublesome.
Allow the older child to sit close and observe the baby. Permit him to talk to the baby. Keep a constant eye on the children when they are together.
Best of luck…do take care…enjoy motherhood !!
No related posts.