How to Clean and Sterilize Bottle Feeding Equipment
Your baby's health is in your hands. You can keep your baby free from sickness and infections by cleaning and sterilizing feeding accessories. Your baby will not get affected by external germs that are present in the surroundings. A few techniques to be applied .
Cleaning of feeding equipment
Wash the feeding bottle and accessories immediately after use. This will remove the foul smell that emanate when milk stales.
Wash your hands too.
Do not leave the nipple of the bottle in the open after feeding. Attracts flies and germs.
Rinse the bottle , cap, nipple thoroughly in water and then use a bottle brush to remove any residue. Focus on the groves at the neck of the bottle as there is high chance of milk settling out there.
Use mild liquid detergent to clean the bottle.
Check the nipple for any damages. Wash nipple inside out and ensure water flows from the hole of the nipple.
Complete rinsing of bottle , cap and accessories in hot water too.
Why to Sterilize the feeding equipment
Sterilization is a very critical activity. Sterilizing feeding bottles and accessories ensure all germs and bacterial are killed. Sterilization is effective if proper cleaning is done.
Babies are very delicate and have an immature immune system. Babies cannot fight germs as easily as grown up's do. An illness that could cause a minor inconvenience for an adult could be very serious for a little baby.
It is advisable to sterilize bottles used for feeding i.e water or baby formula until baby is nine months old. Once baby is crawling and moving around you can wash the containers immediately after use and dry it in sunlight to avoid infection.
How to Sterilize the feeding equipment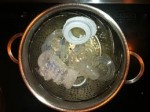 After cleaning feeding bottles, nipples and caps place them into a clean bowl. Fill water in it such that the accessories are immersed. Boil the water in the bowl.
Ensure no contact of plastic to the sides of the bowl, shape will get distorted. Decrease the flame and continue further boiling for 5 more minutes. Leave the lid on the bowl during cooling also.
Wash your hands before removing bottles and other accessories from the water. Use tongs to pick the bottle from the bowl if hot.
Remove the bottle and place it on a clean tissue paper or SS rack. Once it is dry place the nipple inverted and close the cap . Effective  for four to six hours when dry and there is no moisture.
Watch out in case of feeding bottle nipples:
Latex nipples are softer and more flexible, but they don't last long . Silicone nipples are firmer and hold their shape longer. You can choose latex, silicone, or rubber nipples. Replace the nipple upon deformation of shape or expansion.
Your baby is in safe hands upon following all the instructions. You can enjoy motherhood as the days go by.
No related posts.