How To Keep Your Baby Comfortable and Healthy in Summer
Summer has set in with the heat and you need to keep your baby cool and comfortable. Your baby's health is most important and you need to protect your little one from all external conditions that would affect his health.
Choice of clothes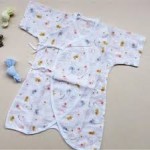 Select cotton clothes of light colors. Baby will be comfortable as it does not attract the heat and sweat does not get trapped which is a major cause for prickly heat to occur. Preferably use cotton nappies unless it cannot be avoided like traveling, attending a function. If you are using disposable nappy ensure baby is retained in cool environment.
Stay indoors during peak hours
To avoid the peak time of the sun's heat, it is recommended that you do not go out between 10 am to 5 pm. In case situation demands you going out with the baby then wear suitable clothes, cover the baby's head and keep away from direct sunlight as baby will feel drained and may fall sick due to the heat wave.
You can take the baby out in the evenings in his pram and show him the world around him. This will be a good exercise – walking schedule for the parents too.
Baby has to be given more liquids
Baby has to be given liquids in addition to milk. If baby is less than six months and exclusively breast fed there is no need to give boiled & cooled water separately. If baby is on formula feed you need to feed baby with water, coconut water or fruit juices in addition to milk. For kids above 8 months, appetite has increased, avoid buying food and drink from the road side vendors. Baby may fall sick due to unhygienic conditions at the stalls or the contaminated water used in the process and handling. Train babies to have homemade stuff. Carry water and food when you go out with the baby.

Avoid using excess talcum powder
Consult the doctor if baby skin has rashes. Apply coconut oil or olive oil while massaging your baby and to cool the baby's skin. Wash away all oil during bath time. Consult a doctor for the right sunscreen to be used when you plan an outing.  Use a mild moisturizing soap. Apply talcum powder scarcely and after all moisture is wiped from the body.
Keep your baby from direct air of cooler or AC
Ensure your baby is way from direct cool air from the Air cooler or AC. This will ensure baby does not catch cold. After bathing your baby do not place him under high speed of fan or AC. Baby will feel cold and become uncomfortable.
Let baby enjoy bath time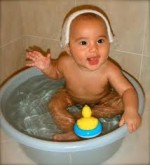 You can give him extra bathes. Need not wet the hair and head, the body should be addressed. Place baby in a small bath tub and fill lukewarm water into the basin up to stomach level when baby sits in the tub. Never, ever leave the baby alone even for a single moment. Give him some water toys, your baby is going to enjoy this play in water and will definitely make noise for taking him out water
Protect baby from insect bites
Keep baby within mosquito nets. Insect bites will leave rashes on body that will swell and ooze. Summer is the time for allergies and health problems due to extreme hot conditions. Wear long sleeved clothes and full covered thin pyjamas. Avoid standing water in and around your house which lead to breeding of mosquitoes. Protect your home with mosquito mesh on windows and doors
Follow all precautionary measures to keep your baby healthy this summer. If your baby is comfortable he will play and be normal throughout the day. If he is uneasy with the heat he will definitely put you to task.
Read: How to keep your Baby Healthy during Weather changes?
No related posts.