How to Make a Cloth Diaper for the Baby?
Your new born baby's arrival is near and you have to make a few arrangements to welcome the little one into this world. Most importantly you need to plan for baby's clothes.
In India new born babies are not given new clothes to wear in the first few days. There could be allergy due to dust or contact of chemicals during the process of manufacturing dress materials.
The clothes are washed  prior to usage for baby. It is economical to use homemade cloth diapers in the initial days because baby will pee and poo several times . It is easy to make a diaper with cloth. There is no designing aspects involved. It is simple method.
Just follow the instructions for making homemade cotton cloth diapers:
Cotton cloth is recommended for cloth diaper.
You can choose baby colors for diapers like baby pink, baby yellow, sky blue and leaf green.
Cut the cloth to square pieces of 50 cms i.e ½ a meter.
Hold two opposite edges to form a triangle.
Stitch the corners completely such that it is a double clothed triangular cloth piece.
Now place a small loop on the first opposite edge of the cloth.
Your cotton cloth diaper is ready for use.
Place the cotton cloth diaper below the baby's bums.
Take the edge of the cloth from the left side thru' the loop and tie it with the right side edge. Tie the cloth diaper twice to ensure it doesn't come off.
It is convenient to make and use. It is ideal for babies.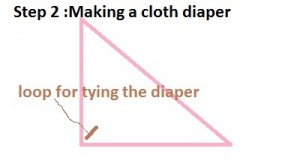 This pattern is ideal for a girl child. For the boys the pee will mess the surrounding area as it is not confined inside the triangular cloth. In such instances you can make the cloth wider with two loops to keep the diaper intact.
This is easy to dry also unlike the thick cloths. You can make diapers at home with reuse material like old cotton T shirts , dhothi ,etc. The advantage is it is soft and smooth for the baby. During travel these can be disposed off.
When baby is lying on back you can use cotton inserts for higher absorption of pee.
In India the summer months are hot and humid. Baby will be restless with the synthetic diapers . The conditions may not be economical to use ready made diapers round the clock. You can opt for the cloth diapers.
Cloth diapers can be used upto 9 months. By now baby has turned over, crawled and trying to stand by holding objects.  As baby is growing you can go in for knickers.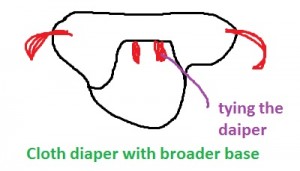 Refer this video for making diapers from re-use dress material…safe for the baby too.
Related posts: