How To Soothe Your Crying Baby…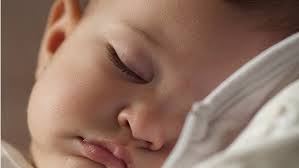 Babies are very fussy at times when feeling sleepy and they keep crying non stop . You will not be able to pacify the baby. Here is an very old soothing method that will calm your baby and will enable her to fall asleep. Lullaby is the solution for your crying baby.
Lullabies are loved by little ones. Lullabies are rhymed and harmonious words. Lullabies are sung by the mother of the baby generally to put the baby to sleep. Lullaby is a tradition in our culture and it has been handed over to each parent through generations. Lullabies are usually sung in their mother tongue. In joint families baby gets to hear lullabies from grandparents, elderly relatives, aunts, uncles at home apart from parents.
You can develop rapport with your baby by singing lullaby while the baby is feeling sleepy. You need not worry about the lyrics of the song, the tune or if the song is sung with sruthi…off tune in melody. You may have forgotten a few words, never mind, keep humming to fill the gap. You can make it a practice to sing different popular songs you may have hard in your childhood.
Lullabies are known as lory in Hindi, Lali pata in Telugu, tharatu patta in Malayalam. Just to recollect the famous ones depicted in movies are:
In Hindi : Chanda hai tu, mera suraj hai tu….
In Telugu: Lali…lali…lali…lali
In malayalam: aararo…aarariro…. These songs are full of melody and pleasant feeling.
Lullabies are sung all over the world in local languages and styles of singing. The folk songs are good to hear with simple words that is easy to learn too. The cosmopolitan culture and advanced technology are changing the styles of lullabies. The pleasant music is replaced with rap songs and high music. You can pick a CD from your nearest music store for the ideal songs your baby would enjoy to hear and soothe her down.
The lullaby reflects the taste of the mother. Lullabies built a communication pattern between mother and child. The baby's responses, identification and perception process increases.  Baby reflexes like hearing, seeing- eye contact and even responding to the voices is clearly seen.  As the baby is held close or the parent holds the arm, the body postures convey warmth and love to the baby. The bond between child and family is strengthened.
Lullabies are infact the first interactive medium of communication with mother and child. Babies slowly start showing preferences to songs. They identify the voice , words gradually and smile, laugh and within a few minutes are fast asleep. Funny to see the pattern develop in a baby.
The advantages of lullabies for babies are:
Soothes crying children to make them sleep.
Directs baby with the tone of mother's voice.
When babies are afraid of sudden movements and sudden voices their blood pressure and heartbeats rise immediately. Lullaby draws this high blood pressure suffered by children into a normal level and this is achieved in a very short time.
The child grown hearing lullabies have a much healthier kind of communication with the mother.
Baby grasps words quickly and will be able to  repeat them as they are growing up.
The baby identifies nature – moon, rain, voices of birds and animals as these are the common lyrics of lullabies.
As most mothers are working they do not find the time to sing a lullaby or are so tied up in their schedules, mobiles that they prefer to switch on the music system for convenience. You can make an effort to chip in with your vice such that the baby realizes that mama is near.
You can make a start even now as the baby can take lullabies as she is growing up. Maximize the benefits of lullabies and keep the age old tradition alive
No related posts.