Panikoorka, the Natural Home Remedy for Cough, Cold and Fever in children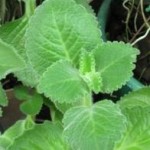 Panikoorka plant is a common sight in most homes in the Southern states of India. You will find them in the homes where small children are there. Panikoorka is an Ayurvedic herb , the leaves are used for treating common cold, cough and fever in babies and adults. Panikoorka is a natural anti-pyretic and is most effective in children.
There are references in Ayurveda of the usage of this herb.The botanical name of Panikoorka is Plectranthus amboinicus . In India it is known as Indian borage, in Hindi known as Patta ajavayin, in Tamil – karpooravalli and referred as navaryila in Malayalam.
Panikoorka is very effective home remedy for cold, fever and cough in children. Leaves of panikoorka is squeezed and the juice is taken. A teaspoonful of Panikoorka juice when given to babies would cure their cough, cold, fever, sore throat, nasal congestion and chest congestion.
Panikoorka is a natural expectorant for children. Panikoorka is very effective for cough and chest congestion . Boil the leaves of panikoorka for 5 mins in 1 cup of water. When cool feed 2 tspn of this decoction to children for curing their cough, and bronchitis.  It is an effective natural remedy for excess phlegm.
Panikoorka is used as a natural and instant  First aid support . Applying the extract of panikoorka leaves on the area relieves itching, infection, insect bites and wounds . It is also used in the treatment of skin disorders, dandruff and different types of allergies.
Panikoorka helps improve lactation in nursing mothers. The health benefits will be transferred to the child through milk.

Panikoorka can be consumed in different ways to minimize the bitter taste and strong odor.The juice is extracted from leaves by placing them on a hot tava. The leaves will become transparent when hot. Remove from the tava and squeeze them with your fingers. In case of grown up you can directly squeeze the washed leaves with your fingers to collect juice.
Infants and Toddlers:
Two three drops of panikoorka leaves juice would treat chest congestion, cough, and cold in infants. Two three drops of the juice when applied on head, would prevent cough and cold in children and adults.
Panikoorka leaves extract can be mixed with honey and applied on mother's breast so that infant will suck it when they drink milk. You can also apply panikoorka leaves on child's lips.
Panikoorka leaves extract can be mixed with powdered organic rock sugar (mishri in Hindi, Kalkandam in malayalam ) and given to toddlers for throat infection, cough and cold.
Children:
When children complain of stomach pains, problem of worms , you can give Panikoorka leaves extract mixed with sugar three times a day.
For relieving cough take a mix of panikoorka leaves extract, honey and lemon juice two times a day.
Inhaling vapors with panikoorka leaves extract would cure cold and fever.
No related posts.