5 Essential Tips to Prevent Diaper Rashes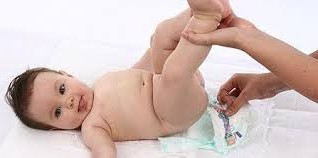 Diaper rashes for babies are painful ,the babies are irritated and restless. Diaper rashes can be prevented with timely action and proper care. Here are few essential tips to prevent diaper rashes for the baby.
Choose the diapers wisely:
Quality of product should be given preference to than fragrance and cost. Avoid diapers that promise fragrances as they are bound to be treated with chemicals that may irritate your baby. Do not use wipes that are dipped in alcohol or other pleasant fragrances. Rinse your baby's bottom with a wet cloth dipped in warm water. If you are using cotton nappies that are made at home , do wash them thoroughly to remove the detergents.
How to Make a Cloth Diaper for the Baby?
Ensure your baby's bottoms clean and dry:
Change baby's diapers frequently. Monitor the diaper for stools or urine. Avoid long contact with the poop and urine. During nights also watch out if the diaper needs changing. Clean your baby's private parts with a wet cloth dipped in warm water, pat dry and replace the diaper. Take care not rubbing the privates vigorously. Also as part of good hygiene practices sanitize your own hands before and after every diaper change.
Weaning process- Be cool:

During weaning process introduce one food at a time. Watch the baby for any visible changes i.e allergies or rashes. If you observe redness then discontinue with that food. Continue to breast feed as it will build immunity for the baby and reduce rashes if any.
Your Baby's First Taste of Solids
Check the size of the diapers:
Always buy a pack of diapers that fits your baby. This will ensure better air circulation and baby will be comfortable. In case you are using the home made ones make sure you do not tie it tight over the baby's waist. In summers or during humid weather let the baby be without the diaper for some time when asleep. This will make the baby feel free and give some fresh air. Cover with a light cloth. Do monitor to avoid insect bite etc.
The importance of Setting a Baby's routine
Select best baby products:
When the baby is patted dry after a nappy change do apply baby powder. In case you observe rashes do consult the pediatrician. Follow medication as recommended by the doctor. You may apply moisturizers on the baby's skin. Check for the "best use before" dates on the pack while purchasing diapers. Cover the diaper pack after you have take out diapers to avoid dust contamination and itching for the baby.

Take precautions for the baby and avoid diaper rashes. Keep your baby healthy and active.
Please add a comment and, if you like the post, feel free to share it with your friends. You can also visit our Facebook page and Google plus page for more insight on other articles.
You may also like to read:
How to keep your Baby Healthy during Weather changes?
How Memory Develops for your Baby
Vaccines for your baby – Immunization schedule
It is not safe to use an AC or Air cooler for a newborn baby?
Related posts: