Symptoms, Remedies and Prevention for Ear Infection in Tinytots
Ear Infection:  If your baby is fussy, cries more than usual, and tugs at their ear, an ear infection may be brewing. Ear infections and babies' go together like milk and cookies. In fact, five out of six children will have an ear infection before their 3rd birthday. An ear infection is a painful inflammation of the middle ear. Most middle ear infections occur within the Eustachian tube, which connects the ears, nose and throat.
Ear infection often follows a cold. Bacteria or viruses are the likely culprits. The infection causes inflammation and swelling of the Eustachian tube. The tube narrows and fluid builds behind the eardrum, causing pressure and pain. Approximately 5 to 10 percent of children with an ear infection will experience a ruptured eardrum. The eardrum usually heals within one to two weeks and rarely causes permanent damage to the child's hearing.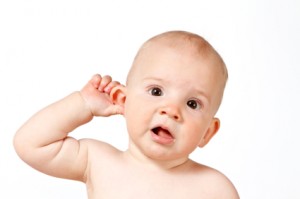 SIGNS YOUR BABY HAS AN EAR INFECTION:
 Ear ache can be extremely painful and your baby can't tell you what hurts. But there are several common telltale signs:
 Irritability
Cough
Pulling or batting at the ear
Balance Problems
Loss of appetite
Lack of response to quiet sounds
Trouble sleeping
Fever
Fluid draining from ear     
Home Remedies for Ear Infecttion
  Ear infection can cause pain, but there are measures you can take to help ease the pain. Here are few home remedies to tackle ear infection:
Warm compress: – Try placing a warm, moist compress over your child's ear for about 10 to 15 minutes. This may help reduce pain.
Distraction: – If your child is battling an earache, do your best to get them comfortable by taking their mind of the pain. For example, let them play a game on your phone or tablet, put on their favorite cartoon or simply find other things for them to focus on.
Warm oil: – If there is no fluid draining from your child's ear and a ruptured eardrum isn't suspected, place a few drops of room temperature or slightly warmed olive oil in the affected ear.
Stay hydrated: – Offer your child fluids often. Swallowing can help open the Eustachian tube so the trapped fluid can drain.
Use garlic:-Crush garlic and warm it with extra virgin olive oil, allow it to cool to just above body temperature and pour a few drops in the babies ear and the baby will be relieved from the ear infection. Both garlic and oil have antibacterial properties, and anecdotal evidence confirms that the warm oil also takes away the pain in the short term.
How to Prevent Ear Infection
 Avoid second hand smoke: Children exposed to cigarette smoke develop more ear infections.
Position to breastfeed:- Sit your baby up to give her a feed, rather than holding her lying on her back.
Practice good hygiene: Encourage kids to wash their hands frequently. Avoid Play time with sick children. Thoroughly clean bottles, which harbor more bacteria than sippy cups.
Breastfeed if possible: Breastfed babies are less likely to contract viral or bacterial infections including ear infection. For bottle-fed babies, sitting or being held upright while eating has been shown to decrease ear infection rates.
Childcare choices:-Nurseries can expose babies to more coughs and cold. So if your baby is susceptible to ear infections, you may like to take this into consideration when making your childcare choices.
Limit pacifier sucking by babies over six months old. Evidence suggests that it increases the risk of recurrent ear infection.
Vaccinations: Vaccinations are also protective. Studies show that kids are up to date with their shots- especially for pneumonia, meningitis and flu-get fewer ear infections.
WHAT INCRAESES YOUR RISK!!
   Some things that increases the risk for middle ear infections are out of control, these include:
Age: Children ages 3 years and younger are most likely to have ear infection. Also young children to get more colds and other upper respiratory infections. Most children have at least one ear infection before they are 7 years old.
Infant feeding: – Babies who drink from a bottle, especially while lying down, tend to have more ear infection than who are breast-fed.
Birth defects or other medical conditions: Babies with cleft palate or Down syndrome are more likely to get ear infections.
Weakened immune system: Children with severely impaired immune systems have more ear infections than healthy children.
Family history: Children are more likely to have repeat middle ear infections if a parent or sibling had repeat ear infections.
Ear infection at an early age: Babies who have their first ear infection before 6 months of age are more likely to have other ear infections.
Seasonal factors: – Babies with seasonal allergies may have a greater risk of ear infections during seasonal high pollen counts.
Persistent fluid in the ear: fluid behind the eardrum that lasts longer than a few weeks after an ear infection increases the risk for repeated ear infection.
Prior infections: Children who had an ear infection within the previous 3 months are more likely to have an ear infection, especially if the infection was treated with antibiotics rather than natural home remedies.
Poor air quality: – Exposure to tobacco smoke or high levels of air pollution can increase the risk of ear infection.
Related posts: