Recipes for Baby food
Your child is four months old and is crying often as she craves for more . Only Breast feeding will not be sufficient now. It's time you introduce semi solid food like porridge made out of wheat, rice etc. This process of change in food is known as weaning.
You have to be extremely cautious to observe the baby's response to a different food. For example if you introduce wheat then you need to watch out for the changes in baby's skin, stools to understand if the baby's digestion is OK. In few cases, the baby may be prone to allergy of wheat or any particular vegetable then the problems will be severe.
Indians usually start semi solid food after a ceremony of Annaprasana.  Annaprasana is conducted usually when the baby is six months to one year old . The ceremony is conducted in a temple or at home by the priest . Annaprasana means change from liquid to solid food. Odd month is selected for a girl child i.e 7th or 9th month and an even month for a male child i.e 6th or 8th month. An auspicious date and time is selected for the occasion. The ceremony is attended by relatives and friends.The baby is dressed in traditional clothes.
There are fun games associated with this ceremony. Items like books, jewels, pen, clay and food items are arranged on a plate or banana leaf and placed in front of the child. Each item has a significance and symbolizes learning, wealth, wisdom, property and a love for food. The gathering encourages the child to pick an item. Based on the item the child picks, the profession is decided. For example if the child picks a pen he becomes a writer or officer in the future. These are typically fun games now.
Consult your pediatrician prior to making the changes. Introduce one food after another with a gap of 2 to 3 days. Few recipes from my collection are mentioned for the benefit of new moms.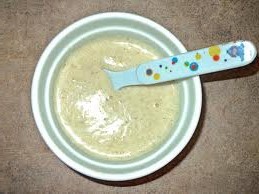 Rice and Moong dhal khichdi
You need to do pre-work for this baby food recipe.
Rice: 1 cup
Moong dhal (split Green gram with outer cover stripped) : ½ cup
Fry Moong dhal on a low flame. When hot remove from flame. Ensure the dhal does not become deep brown. Leave it for cooling.
Wash rice and moong dhal , drain water completely. Spread the washed rice and moong dhal onto a clean cotton cloth and place it for drying under hot sun. Do not plan this activity on a cloudy day.
Repeat drying in hot sun for 2 to 3 days. Powder the grains coarsely and transfer it into a dry air tight container.
Procedure:
2 spoons of the grain powdered
1 glass water
Pinch of salt
Cook the khichdi 30 mins prior to the baby's meal time. Take 2 spoons of the powder and mix it in 1 glass water. Ensure there are no lumps. Place the vessel for boiling on a low flame. Add a pinch of salt to this. It will take approximately 8 to10 mins for cooking. When cooked and soft put off the flame. Leave it for cooling. Initially you can serve in liquid consistency. After the seventh month you can make this thick consistency .
You can add ¼ tsp ghee when the porridge is hot . Serve it with a spoon. You will notice the baby is refusing and pushing out of his month. After a few fussy attempts the baby will start to enjoy the meal. It also depends upon baby's appetite too. If there is a gap of 2 hrs from the last feed , baby will consume the entire quantity.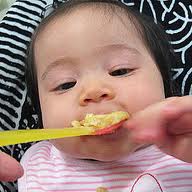 You need to keep a bib and soft towel handy. Clean baby thoroughly after feed to avoid sticky feeling and also food smell. As it is filling the baby will go for a nice sleep.
Week by week gradually increase the quantity of powder too. You can introduce vegetables like carrot, potato, green leaf- spinach, bottle gourd etc while cooking. Grate the vegetables and mash it thoroughly prior to feeding . The baby should not choke due to bigger particles.
If you are a non vegetarian and your baby is settled with weaning ,  you can add approximately 2 spoons of mashed chicken , scrambled egg or soft mashed portions of fish.
If baby is having watery motions, vomiting, crying too much you need to consult the doctor. Sometimes baby may have colic pain due to indigestion. Do not delay as situation can worsen and baby will become weak.
Variations along with rice will be thuvar dhal. You can directly add rice and dhal and cook into a cooker . If baby likes sweet food cook it with little quantity of sugar or jaggery too. Your baby will enjoy the change and appreciates mom's dishes with a big smile. … Hope you got the message ' Thank you'
My eyes are brimming with tears of joy remembering the very old times.
Wishing you good luck…enjoy your baby growing and adapting to small changes in life.
No related posts.