As your baby is growing up you need to introduce suitable food at the right time in addition to mother's milk to provide required nutrition to keep your baby bubbly and active. The systematic process of change in food is known as weaning.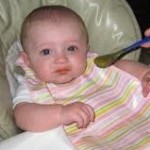 It is recommended to start with semi solid foods after baby is 4 months old. Depending upon the baby's health and nutritional needs,  doctor may suggest to begin at 6 months also. Consult your Pediatrician prior to making any change.
Go slow… when you start new food.
Pick a time of the day when the baby is active. You need to ensure that the baby is hungry, there is a good time gap for the next frequency of meal. If the baby is fed with formula or breast milk and the gap is less she will refuse to taste even.
Make the baby sit in a comfortable position i.e in your lap or the baby chair, with good support.
Normally the baby's first food is a cereal cooked along with formula or milk. Initially the baby is given very little quantity and gradually based on acceptance level and appetite the quantity is increased.
You can start with vegetable soups.
When a baby is on breast milk additional water will not be required. If the baby is on formula milk additional water should be given in small quantities. Try to slowly stop the baby having from a milk bottle as the upper and lower teeth will be protruding forward as baby grows.
You can give fruit juices, filter all fibrous material and seeds as it may choke and baby will vomit what she had previously also. It is painful to see the little one cough and the eyes become watery.
Burp the baby after feeds . A good practice for ensuring baby food will not be wasted.
Keep a towel handy for cleaning all spills. The baby's lips should be wiped with wet cloth to avoid darkening. The baby should be wet sponged after meals. If baby is not cleaned, the food substances will dry up and could be chance for attracting insects. In India we observe a trail of ants on the baby's cot due to the sweet smell.
Dip all baby clothes in Dettol antiseptic liquid (follow label instructions for dilution). This will prevent rashes and foul smell from the clothes.
Preferably dry baby clothes in sunlight.
While feeding the baby be close by , do not leave the baby unattended.
General watch outs based on my experience:
When you are planning to go out with the baby take extra set of diapers, towel, formula milk, water, poly bags to dump in soiled items.
If weather is cold ensure baby is nicely tucked in warm clothes. Cover ear, head, legs and hands as baby will catch cold if exposed to cold
If you are out on a hot day, be extremely careful of the scorching heat. Use an umbrella or a nice sunlight protection.
Ensure medication of baby is kept in a cool place, away from sunlight. Ensure proper labeling.
I've observed mothers carrying small babies and sipping hot tea, the baby will be attracted to the cup or coffee mug in your hand and will want to grab it. Accidently  it may spill also. Beware of such incidents.
Do not carry baby in the midst of your home chores. For example if you are chopping onion and carry the baby with the same hands, gradually baby will develop a nausea feeling to the smell. I know children who have grown up and detest onions in the food they eat.
Bringing up a baby is a huge responsibility and you can manage it wonderfully with the support of your family.