It is a tough activity to keep your child at one place after he turns onto his tummy and when the child starts to walk around . Mother is all excited observing the changes happening in the child's progress. She needs to prepare for keeping her home safe for the child and proofing all probable sources of risk associated in the vicinity of a house.
Children are injured mostly in the surroundings of home. The common injuries include: falling down stairs, banging their heads, pulling objects on top of themselves, getting seriously burnt or even falling out of windows that haven't been properly shut or locked.
The seriousness of the incident can result in permanent disability or loss of life. Making your home as safe as possible will allow your child to have a gala time in his space and be occupied in his activities and as parents you can have peace of mind.
Parents have to keep an eye on the child always. Watch out when you are not in normal routine…look out for the following situations like attending a function, guests at home, demands of older siblings. There are no completely child-proof containers, so make sure that anything risky or dangerous is locked away or well out of reach to an inquisitive and agile child.
Remember to keep your First aid box stocked and locked, in a prominent place such that others in the family knows about it, basically out of the reach of children. Understand how to respond in an emergency.
Here are some tips to make your home safe for kids: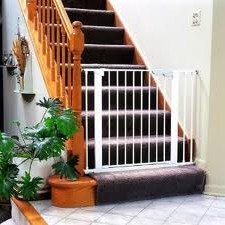 Falls
Install baby gates at the top and bottom of stairs. At the top of stairs, mount safety gates into the wall because a toddler's weight is enough to push over a "pressure-mounted" gate.
Get rid of walkers. Maximum injuries are directly attributed to walkers. If there is delay for the child to walk, use walker but ensure supervision.
Don't place a baby on any surface next to an open window – a lot of babies fall from windows. Keep furniture and other potential climbing structures away from windows.
If windows are not locked, put stoppers on them so they can't be opened by more than 10cm. The best place to put them is at the top of the window
If possible place grills for the windows
Pulling things over oneself
Toddlers will naturally grab hold of a dangling tablecloth to help themselves stand up. If you are using a tablecloth, make sure you fasten it to the table with pegs or clips so a child can't pull the cloth and everything on the table over him or herself.
If you are using shelves and bookcases to store baby things, make sure they are anchored to the wall to prevent your baby from pulling them over.
Some children may try to use book shelves as a climbing frame. Make sure all shelves are fixed securely to the wall so they can't topple onto a child.
Ensure the drawers of the cupboard are latched / locked. This will prevent the child pulling the drawer and throwing objects onto himself.
Swallowing – Congestion
All medicine, tablets, vitamins and herbal remedies should be locked in a medicine cabinet or other cupboard, so a child can't get to them and swallow them – colorful pills are very attractive to children. Remember that medical poisonings can be extremely serious.
Keep away small articles of the older siblings eg: building block, coins, marbles that can choke the baby.
Suffocation
Dispose of plastic bags, such as those used by dry cleaners, purchase of groceries to protect your baby from suffocation.
Keep soft quilts and pillows out of your baby's crib and play area. Soft bedding can lead to suffocation.
Drowning
Use toilet lid locks to prevent children from falling in and drowning in the bowl. Keep door of bathroom and toilet closed. Do not place buckets of water in the child's areas.
Keep external tank lids of water tanks closed at all times. Safer for younger siblings too. (observed in apartments – parking areas)
Children love playing with running water but it only takes 10cm (4 inches) of water for a small child to drown. Basically if a small child's face goes underwater, they will automatically breathe in so that they can scream and this will fill their lungs with water.
Children also lose their sense of direction underwater, so they can't react by pulling their head out or standing up as an adult would do.
Put bath and basin plugs out of reach, so that a child can't fill up the bath or basin.
Cuts
Keep pens, scissors, letter openers, staplers, paper clips and other sharp instruments in locked drawers.
Check for unsafe toys. Avoid ones that have lead paint, sharp edges, brittle plastic parts, damaged upon usage, strings or chains.
Keep knives and cooking tools in locked drawers in the kitchen.
Attach cushioned corner edge protectors or plastic covers to the sharp corners of coffee tables and desks. This may not look attractive, but it could save your child from serious injury.
Burns from hot objects
Keep matches and lighters out of sight and reach of children. Extinguish and dispose of cigarettes properly. Domestic fires pose one of the greatest risks to children. Children playing with matches and lighters frequently start house fires.
Always check bath water temperature with your wrist or elbow before bathing your baby.
Do not carry hot water container till the bathroom. Major accidents are reported with child rushing in and the hot water splashing all over.
Disconnect and keep away hot iron boxes after pressing clothes from the reach of the children
Installing a cord holder, which will make the cord too short to reach over the edge of the table or work surface. You can also simply make electrical cords shorter to avoid pulling the electrical gadgets.
Make sure that saucepan handles are turned inwards so children can't reach them.
Ensure your stove is on elevated platform and the oven latch is locked. Put a fire guard or grate over the oven glass.
You may want to adjust the thermostat on the boiler while your child is still a toddler – so if they turn on a tap, they won't be scalded with very hot water.
Electrical burns
Avoid electrical immersion dippers for heating water.
Reinstall all electrical sockets in your house above a toddler's reach. Install baby-proof plugs in electrical outlets and keep your baby away from electrical cords.
Electrical accidents are always very serious. They can cause severe third degree burns or even death.
All power sockets should be secured with a plastic covering that a child can't remove.
Find out if there is a safety relay or circuit breaker in the house and if there isn't, have one installed.
Other common injuries
Fix a wedge or hook on doors to hold them permanently open, so that a child can't get their fingers trapped. Magnet doors latchers are available in the market
Windows to have grill / mesh, avoid falling out or throwing objects out.
If you are using a crib make sure the space between crib slats is no more than 2-3 inches.
Keep your baby away from blinds or drapery cords.
It's also easy for children to get their fingers trapped in drawers or doors. They don't have complete control over their actions, they can easily slam a drawer shut on their hands.
Fix a stopper to the drawers to prevent them being pulled out completely or fix a safety catch to prevent a child from opening the drawer or cupboard at all.
Fix a catch on the fridge door – so that a child can't get their fingers trapped, or even worse, climb inside. If the door is closed by accident they would quickly suffocate.
Loose carpets and rugs are dangerous for children who are just learning to walk because they could easily trip over them. Put rubber matting or stoppers under the carpets and don't put down loose rugs until the child is older.
If there are openings between the steps, these should be blocked up to prevent your child from falling out underneath or getting their head stuck.
A child's head can also get lodged between the banister rails if they are more than 7.5cm (3 inches) apart.
If you are a parent of newborn baby and on the look out for making your little one comfortable, you need to spend some quality time in research and discussing with other parents who are experiencing a new baby. You can take feedback, evaluate the pros and cons and make the final investment.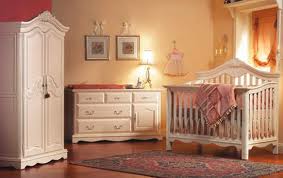 You can spend time visiting shops or check for all offers on baby furniture online. You can check out for all colors, designs and latest models in the sites.
Basically all safety aspects should be reviewed prior to selecting a furniture set. These days designer baby rooms can be ordered. This will include wall painting , curtains, sun screens and all items associated for the kid.
If you want to re-use family furniture or the older siblings cradle etc. check for all connections, nuts and bolts, sturdiness prior to usage.
When you buy a crib make sure it is a large one. The child should be able to sleep and play in it. The slats of the crib should only be 2 to 3 inches apart to avoid getting hands and legs getting stuck. The drop down door should be sturdy and function properly, no screeching noise when used. The mattress should fit in properly.
Usually the crib and cradle will have toys hanging from above which will make noise upon movement to attract the child .
When you buy a cradle check that there are no sharp edges. Cradle is advantages as it is mobile and can be moved to rock the baby in another room too.
Due to space constraints parents opt for convertible or folding baby furniture. Make sure the locks and latches holding the legs are firm and durable. Check for all surfaces, avoid sharp corners. It is a great idea to have a crib in the day and a cradle in the night.
You need to have a large dresser such the drawers can be locked. Clothes , toys etc can go in and there will not be any scattered on the floor. There should be locking provision for the lower ones  such that once they start toddling they do not mess things around.
You can provide all the comforts for the little child coming into your lives. Proper planning and research will enable you select the best baby furniture and enjoy your time with the baby nursery.
You can make the room attractive by creating a photo wall. The progress of the child can be captured in various pictures and affixed .This will give a flashback of events and remind us that the child is growing and can keep the child engaged gazing at her own image.