Tips for Baby Carrier Wearing safely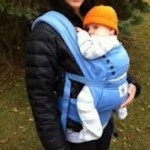 There are many advantages by using the baby wearing sling. The bond between mother and child is strengthened. You can watch your baby during this duration closely. Safe for women travelling in bikes and busy roads. The new mom can feel confident latching her baby close as she is not yet comfortable carrying baby by herself.
I've seen many moms doing shopping , operating the washing machines with the baby in the carrier.
There are few safety guidelines you need to abide to ensure you and your baby are happy using it. Practicing safety will prevent any incidents that you will have to live with for life.
Baby carriers allow parents to be hands-free to do other things … but you must always remain active in caring for your child.
Upright and Wrapped Tight:
Upright is best for baby's brain development, hip development (legs out straddled around the baby wearer's body), breathing, spine development, and visibility. When leaning forward you should be able to easily kiss baby's forehead. Carrying baby upright allows baby to move his or her head easily without having to work against gravity. Babies carried upright show much better head control earlier than those not carried or carried in a cradle carry, which is considered a forced position.
A baby carrier should give baby the in-arms secure feeling. The carrier needs to embrace baby tightly. When leaning forward baby should not fall into the fabric of the carrier but rather baby wearer and baby need to be one movement. If baby falls into the fabric your carrier needs to be tightened.
Make sure baby's face is visible to you at all times. Take time to snuggle baby frequently and gently check on baby's breathing.
Make sure your baby can breathe:
No baby carrier can ensure that your baby always has an open airway – that's your job. As such, never allow a baby to be carried, held, or placed in such a way that his chin is against his chest, as this can restrict his ability to breathe. Newborns lack the muscle control to open their airways. Newborns need good back support in carriers so they don't slump into the chin-to-chest position. Also never allow your baby's head and face to be covered with fabric – always make sure your baby has plenty of airflow.
Never jog, run, jump, or do any other activity that subjects your baby to similar shaking or bouncing motion:
This motion can do damage to the baby's neck, spine and/or brain. Never ignore baby's safety and health.
Use only carriers that are appropriate for your baby's age and weight: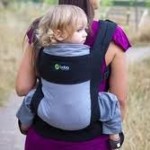 Frame backpacks can be useful for hiking with older babies and toddlers but aren't appropriate for babies who can't sit unassisted for extended periods.
Front packs usually have a weight range of 8 to 20 pounds; smaller babies may slip out of the carrier, and larger babies will almost certainly cause back discomfort for the person using the carrier. Check the manufacturer's instructions for purchase and usage.
Never use a baby carrier when riding in a car:
Soft baby carriers provide none of the protection that car seats provide.
Inspect your carrier regularly to make sure it's sound: Monitor regularly the condition of the baby wearing sling prior to usage. Check the fabric, seams, and any buckles or fasteners.
Check baby's position in a mirror:
When using carriers out and about, check the baby's position with your hands, and use reflective surfaces – such as car or store windows – as mirrors. If you're with someone else, have them check the position is okay.
Avoid slippery surfaces:
A fall can become too risky for you and the baby. Avoid climbing ladders with a baby on a sling. There are few activities that are avoided when pregnant eg: skating, climbing ladders, jumping, the same is applicable for a mother with a baby sling.
Be aware of what your baby can reach:
Babies are very curious and can try to touch unique colors and articles that come in their reach. Be alert , as the baby on your back can reach things you can't even see.
Don't put loose items in the carrier:
Do not put loose items inside the baby wearer sling. The item can prick your baby or can be a choking hazard too.
Protect your baby from the natural elements:
Over dressing baby in summer is not required. The dressing will lead to over heat for the baby in a baby sling. Cover baby for sun protection.
Never use a baby carrier when cooking in the kitchen:
Babies can get exposed to hotter surfaces, and the fumes during cooking. If the space in the kitchen is small the baby will try to pull articles and the risk is high.
No related posts.