Wheat flour porridge
Wheat flour porridge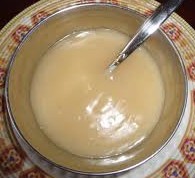 Porridge is a healthy diet for small babies. As they are not onto regular food wheat flour porridge is ideal for digestion. It is also said that wheat flour porridge removes excess phlegm accumulated for the baby. It is a light meal and delicious too due to its sweetness. You can avoid sugar if baby takes it plain. Add a pinch of salt.
I  recommend sugar as it tastes good with wheat flour. Try this out.
Ingredients :
2 teaspoons of ghee
5 teaspoons of wheat flour
Pinch of elaichi powder ( cardamon)
2 teaspoons of sugar
1 cup of milk
Procedure :
Heat ghee in a kadai. Reduce the flame.
On a low flame add wheat flour and roast well till you get the smell of cooked atta.
Mix in elaichi powder and sugar.
Take ½ cup milk and mix the atta . Ensure there are no lumps and the powder is thoroughly mixed.
Boil the remaining milk and gradually add the atta mixture to it.
Keep stirring continuously, till the mixture is cooked and pasty. Watch out for any lumpy formation.
Feed the baby when warm enough that the baby can take into his mouth. If your baby has a liking to this meal you can prepare the same with Rava also.
Gradually you can add mashed banana / mashed apple / cheeku ( sapota) and make the meal more enjoyable. The baby will be delighted with new and tasty food.
Mixed vegetable soup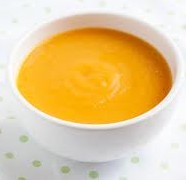 Soup is a favorite drink among little children and your baby may long to have a cup of the mixed vegetable soup. This is a combination of pulses and fresh vegetables. Baby is getting introduced to new flavours, changes of taste – bland, sweet, salty, sour, spicy too. The changes in diet also changes the stool condition.
Baby may have constipation at times and then you can go in for liquid food to soothe the baby. Hope this baby food recipe will be baby's best choice.
Ingredients :
2 teaspoons of moong dal(split Green gram with outer cover stripped)
Few pieces of carrot, potato, cabbage, bottle gourd and mint leaves
2 pinches of salt and 2 cups of water
Procedure :
Wash Moong dal . To this add pieces of carrot, potato, cabbage, bottle gourd and mint leaves (washed prior to chopping)
Add 2 cups of water, salt and pressure cook till dal and vegetables are done.
Now strain this using a strainer. You can make the soup thick by mashing the veggies or serve it as liquid only.
If your baby has enjoyed it , then next time you can try using fresh sweet corn or tomato too.
Related posts: